South.gg Outtakes: On TI10 and the pandemic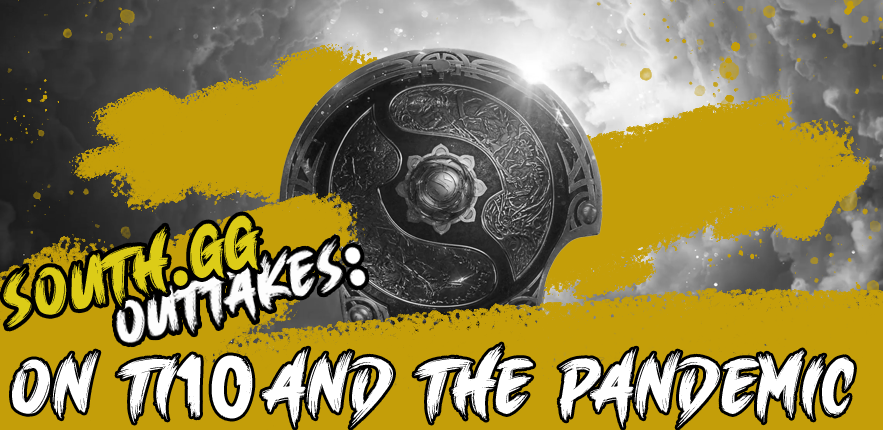 ****DISCLAIMER: SOUTH.GG OUTTAKES IS A SERIES WHERE EMPLOYEES WITHIN SOUTH.GG STATE THEIR OPINIONS ON ESPORTS-RELATED MATTERS. THESE OPINIONS ARE SEPARATE FROM THE COMPANY AND THEREFORE SHALL NOT REPRESENT THE COMPANY'S VIEWS AS A WHOLE.****
We know you're feeling either one of these two:  probably disappointed, probably indifferent. The fact is, most of us esports fans are, especially those who've bought tickets to Dota 2's most prestigious and grandest event of the year.
After being delayed for over a year, fans all over the world were more than excited when Valve announced that TI10 or The International 10 would be a LAN event with a live audience. You could almost hear the collective hurrahs of Dota 2 esports fans, and they're probably already clearing their schedules and booking flights to Sweden, where TI10 would be hosted. Supposedly.
Dota 2 fans were hit with another wave of bad news as the Swedish government rejected the proposal to hold the major Dota 2 event in their country. For some time, the fans were left hanging without any idea whether or not Valve could find another location, or if there would be even a TI10 in the first place. Some were even clamoring for WePlay to host TI10, with them just having recently and successfully concluded the Kyiv Animajor. Then, we got news of Romania accepting Valve's offer and everyone went from panic mode to chill and excited again.
However, if you've been reading recent news regarding esports, and especially news related to TI10, you'd be on the edge of your seat once again. Not from excitement, but from the fear and anxiety of whether or not Valve would cancel The International for the second time in a row. If you're a little late on the news, well, they're not canceling TI10, but they're canceling the live audience part.
From several players and staff contracting the COVID-19 virus, to some players possibly not being able to play, the days before TI10 were filled with bad news upon bad news upon bad news. It was almost as if it the universe's way of saying not to push through with the event.
From a bystander's perspective, especially one not too excited about the Dota 2 scene, it would make less of a difference for me, especially since we've seen WePlay pull off a successful and entertaining, and fun event despite there being no live audience on the set. However, imagining it from a player's point of view would be quite saddening.
Imagine working your bum off to qualify for TI10, securing enough DPC points, or pushing your way in through the TI10 qualifiers. Imagine walking on the main stage that is TI10 and not seeing and hearing the crowd who roar in applause with your entrance, who groan in dismay when your team does a misplay, and who scream in celebration when you destroy the enemy's base. 
Although it's understandable that they had to limit interaction between people to ensure everyone's safety, it would also be understandable for people to feel disappointment over Valve's decision to cancel the live audience. 
Personally, if I was one of the players or one of those who bought tickets for TI10, I'd feel disappointed too. But the truth is that the pandemic doesn't care about your feelings or who you are, and so we're left with no choice but to be secure everyone's safety, even if it means being disappointed at some decisions made to keep the safety.